"If they start as better ideas, they stay better ideas," reads the headline of a1966 Ford print ad showcasing four inventions, including a dual-action tailgate – a forerunner of the modern-day truck tailgate that now features handles, steps and work surfaces.
That headline also works as a rallying cry for the F-Series® truck team, which for more than 75 years has delivered a lineup of tough, smart and capable trucks – the last 46 as the best-selling truck lineup in America1. F-Series is such a big business that revenue dwarfs many other large companies.
The latest Ford better idea: the new 2024 Ford F-150® truck. Available starting early 2024, the truck is designed to enhance the ability to tackle challenges with purposeful features and tech. It has Built Ford Tough® capability to handle tough pursuits. And it has a tough new design, including the new available Pro Access Tailgatefor even more access and utility.  
With increased production of PowerBoost Hybrid for 2024, trims from XL through Platinum Plus, and off-road ready models like Tremor®, Raptor®and Raptor R, there's an F-150 for almost every use case.
All that choice is important because F-150 is a leader in the following industries: construction, government, utility services, agriculture, landscaping, road and highway maintenance, emergency vehicles and mining2. 
Built Ford Tough
The foundation for F-150 is a fully boxed high-strength steel frame with a high-strength, military-grade, aluminum alloy body, allowing customers best-in-class available payload and max towing capability4.
Since its introduction in 2021, the platform underpinning this truck has undergone more than 3.75 million customer equivalent miles of Built Ford Tough durability testing in labs, at proving grounds and in some of the harshest real-world conditions in North America. The truck is tested to the extremes – hot and cold, gravel, off-road and for long distances, at full payload and max towing.
But being tough isn't all about the physical characteristics. This truck is smart. It has offerings allowing it to export electric power5 to help keep job site tools running; aid both novice and veteran towers to line up and hitch their trailers6; provide hands-free highway driving using Ford BlueCruise7 on end-of-day commutes after a long day of work; and provide a tailgate with optimized access.
Many of these productivity-boosting digital features are made possible because of a class-exclusive 5G LTE modem8that enables faster mapping, Wi-Fi and Ford Power-Up software updates if a customer sets their automatic software updates setting to "ON." Customers can also use their SYNC®4 digital system to submit voice feedback on functionality or improvements for their F-150.
This improved connectivity enables a more seamless transfer of in-vehicle data to FordPass® and Ford Pro™ Telematics9, a cloud-based platform that uses vehicle data to give fleet managers access to valuable insights to help accelerate productivity and fleet uptime.
"Built Ford Tough is more than a motto; it's our promise to always strive for more and never rest for F-150 owners. We see it as our duty to deliver what our customers want and need and what they never thought possible."John Emmert, Ford Truck general manager
Growing Hybrid Leadership
Ford truck leadership also includes hybrid trucks. Through the first half of 2023, Ford F-150® is the best-selling full-hybrid pickup truck. Ford hybrid truck sales are up 28.1 percent in the first half of 2023.12

Right now, 10 percent of all F-150 trucks sold are hybrids. Ford plans to double the mix of hybrid trucks manufactured for the 2024 model year to give even more customers access to this advanced technology.

And the initial starting MSRP13 on PowerBoost® Hybrid, available on XLT through Platinum Plus will now match the starting MSRP on the 3.5-liter EcoBoost® engine.

Cost parity means customers will no longer need to grapple with paying a premium price just to have the benefits of a hybrid powertrain: a maximum available 430 horsepower and 570 lb.-ft. of torque14 – the most on any F-Series vehicle outside Raptor and Raptor R – and standard 2.4kW of Pro Power Onboard (with the option to upgrade to 7.2kW). All while getting the same Built Ford Tough durability, capability and reliability as other F-150 series vehicles.
"We're making hybrid more accessible to our customers, giving them the power of choice by offering it as the same price as the 3.5-liter EcoBoost. This is the latest example of Ford democratizing technology for all truck customers. We did it with EcoBoost engines and with high-strength, military-grade aluminum alloy bodies for greater capability, and now we're doing it with PowerBoost Hybrid."Andrew Frick, vice president, Sales and Trucks, Ford Blue
Pro Power Onboard
The industry-first and class-exclusive Pro Power Onboard feature is regularly cited by Ford customers as one of the most desired. 

Used in past Texas winter storms by dealers and customers, Pro Power Onboard charged personal devices through the many available plugs in both the bed and cabin and allowed owners to run extension cords to critical household appliances such as refrigerators, Wi-Fi connections, or space heaters. 

One Ford employee even used it to save a friend's wedding by powering the band's speakers during the reception, and a customer who worked backstage for a band used Pro Power Onboard to save a concert by powering speakers during a power outage. 

More regularly, the feature helps to keep tools charged and ready at construction sites and power tailgates at sporting events. 

An updated digital interface will help customers keep track of available power better, either through the SYNC® 4 screen or the FordPass® app.
Purposeful Technology
The F-150® pickup has always been about getting the job done in the smartest way possible. The new model is the most connected and the smartest F-150 engineered to date. It starts with 10 standard driver-assist features16, including the latest versions of Pre-Collision Assist with Automatic Emergency Braking, Lane Keeping System and Blind Spot Information System with Cross-Traffic Alert. 

The 2024 model will help customers enhance their productivity in a variety of ways with advanced driver-assist features like Pro Trailer Backup Assist™ and Pro Trailer Hitch Assist™. 

Customers have access to more available driver assist technology across all F-150 models and trim levels, including in-demand features like Ford BlueCruise and a 360-degree camera. 

Available Exit Warning is designed to help alert occupants exiting the vehicle to approaching detected traffic from behind, including vehicles, pedestrians, and cyclists.
The 2024 Ford F-150® pickup offers comprehensive towing and hitching technology. 
To improve productivity, Pro Trailer Hitch Assist™ takes the frustration out of hitching a trailer.
It uses the rear camera and corner radars to align the hitch with the trailer coupler while simultaneously controlling the truck's speed, steering, and braking to stop at just the right place all at the touch of a button.
After a short set-up, Pro Trailer Backup Assist™ feature allows the camera to track the trailer position while the driver backs up and guides the trailer.
This is done by rotating the knob left or right in the direction the trailer needs to go, and the system controls the steering wheel.
Class-exclusive17 available Smart Hitch measures tongue weight to help customers properly hitch up and reduce the possibility of trailer sway when towing.
Ford BlueCruise
Ford is changing the way we offer Ford BlueCruise to F-150 customers. Now, F-150 customers can access hands-free highway driving at any point during the ownership journey – at vehicle purchase, or after experiencing it during a 90-day complimentary trial and then choosing to activate either on an annual or monthly basis to fit their needs.
Customers of the 2024 F-150 will experience Ford BlueCruise 1.2, which allows for new capabilities like Lane Change Assist – which can perform a hands-free lane change at the tap of the turn signal – and In-Lane Repositioning to help adjust the vehicle's position by subtly shifting away from vehicles in adjacent lanes, such as large semi-trucks, for instance.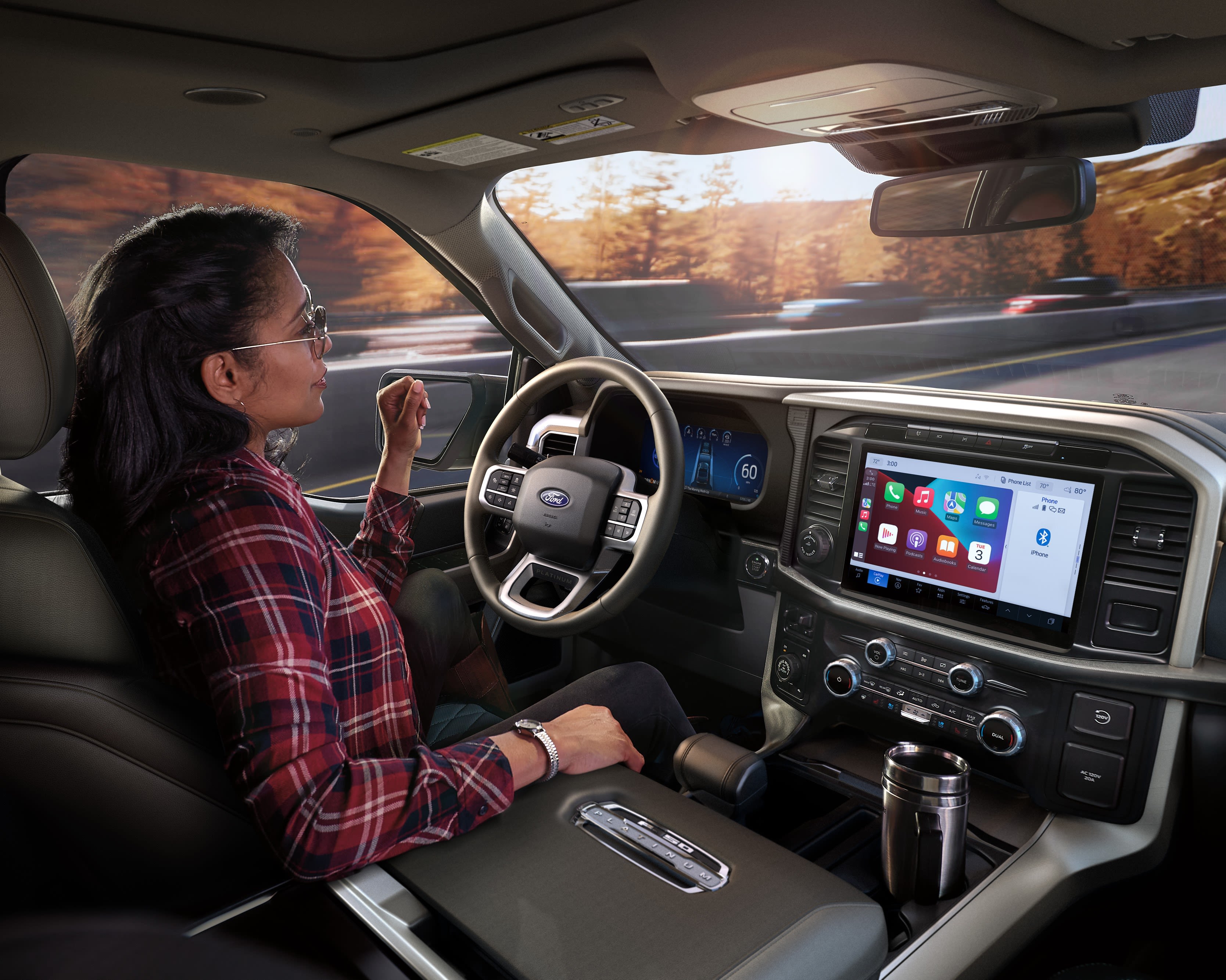 Enhanced Digital Experiences
SYNC 4 with a 12-inch LCD capacitive touchscreen is now standard across the lineup and complements a standard 12-inch cluster screen behind the steering wheel in delivering helpful information to the driver.
An even easier information delivery method comes in the form of an available Head-Up Display15 offered on F-150 for the first time. Included in both Head-Up Display and the cluster are custom views for Ford BlueCruise, tow/haul, and off-road drive modes.
The 2024 F-150 will be the first vehicle available in North America with Ford Stolen Vehicle Services – a connected Service that can help locate and aid recovery of a Ford owner's stolen vehicle if a customer opts in to activate it, by using location data directly from the vehicle giving further peace of mind and security to owners.
Ford SVS provides vehicle security by alerting the customer if someone has gained unauthorized access to the vehicle such as any attempt to access, tow or tamper with the truck. Ford owners can choose to act in the FordPass® app if something is not right and report the vehicle as stolen with the help of the 24/7 Ford Stolen Vehicle Services Call Center. Once reported, local authorities can help locate and recover the vehicle with the help of the call center and the owner will be updated along the way.
Ford will continue to improve the ownership experience with enhancements and new features delivered through future over-the-air software updates. Customers can also use their SYNC 4 digital system to submit voice feedback on functionality or improvements for their F-150 today.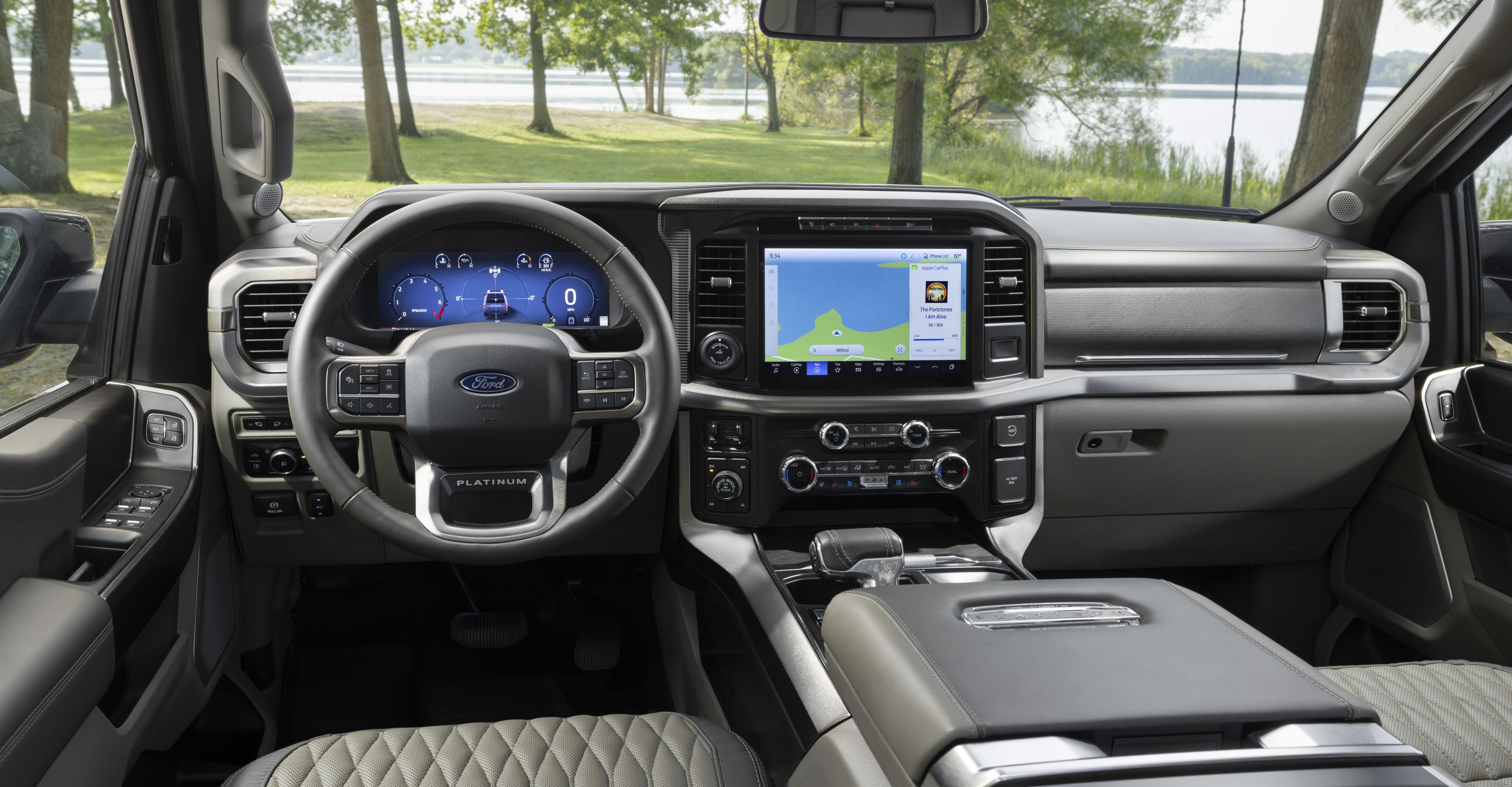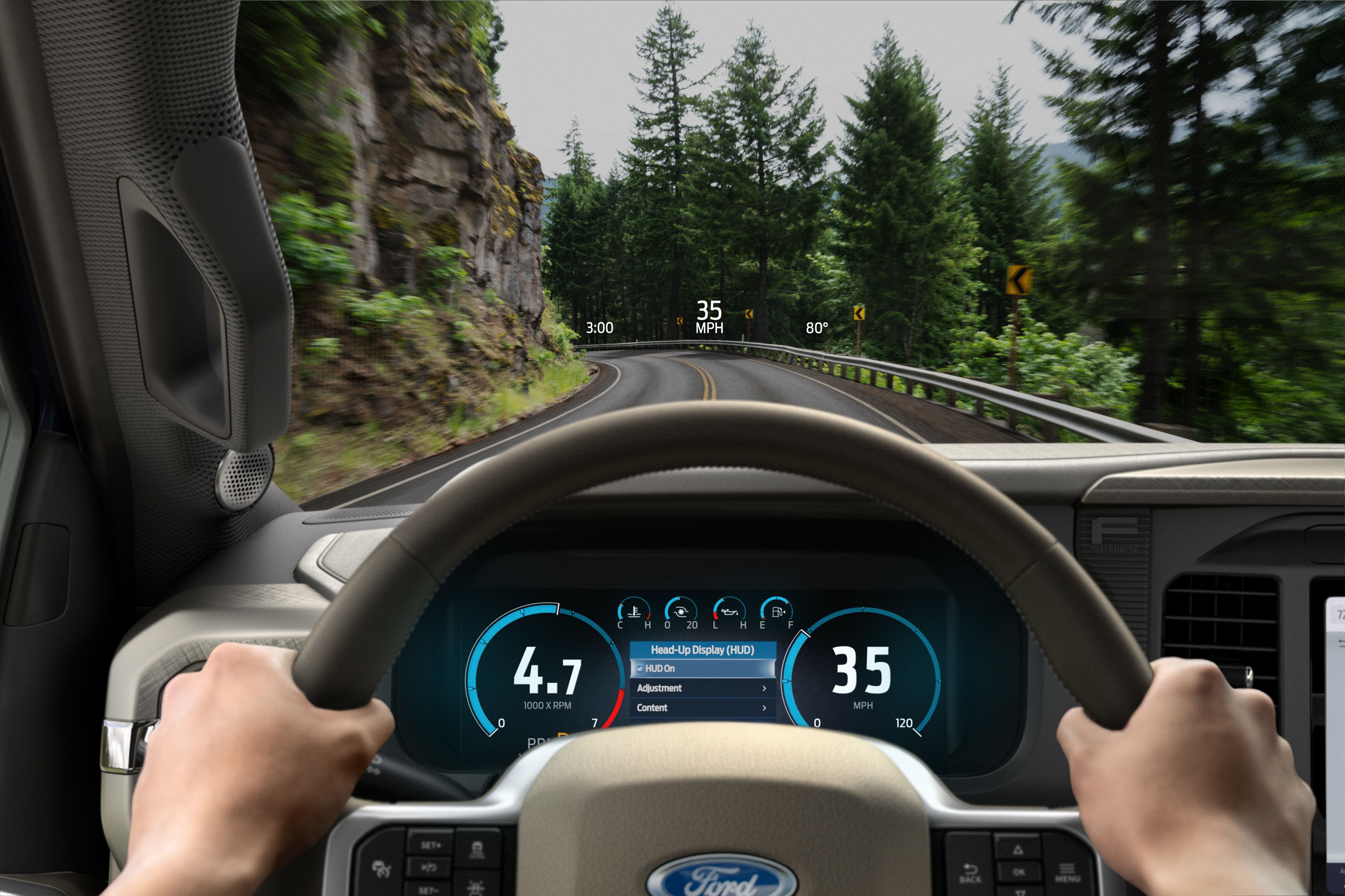 A Century of Tailgate Innovation
The invention of the dual access tailgate nearly six decades ago wasn't even the start of Ford's tailgate prowess. Ford has been innovating the tailgate since the Model A.
In trucks, to help make the bed easier to access, Ford introduced a fold-down tailgate step in 2006. Then, Ford added a handle that retracts into the tailgate for added stability.
Most recently, Ford added a power up/down tailgate with work surface featuring integrated rulers, a place to set your mobile device, and a pencil and cup holder. It's practically a fold-out desk deployable at the work site.
For the 2024 model year, customers can choose to more easily access the Ford F-150® truck bed after Ford widened the step cut-out and increased bumper depth to create our best tailgate experience yet: Pro Access Tailgate.(Customers can also choose to stick with a classic tailgate.)
The F-150 with available Pro Access Tailgate is the only pickup in its class18 to offer a 100-degree fully opened integrated swing gate.